First things first...
Unlike other dishes, this recipe calls for the quality ingredients that are not necessarily more expensive but rather richer in flavor. Meat and bones, for example, you want to make sure they are good bones for soups like knuckles that give an amazing rich taste to a broth or chuck roast that's very meaty and greasy. The spices are very important too since that's what's going to give the extra kick on your broth. Make sure to pick the right spices and don't be afraid to use them!
Beef Shanks, Chuck Roast, and Bones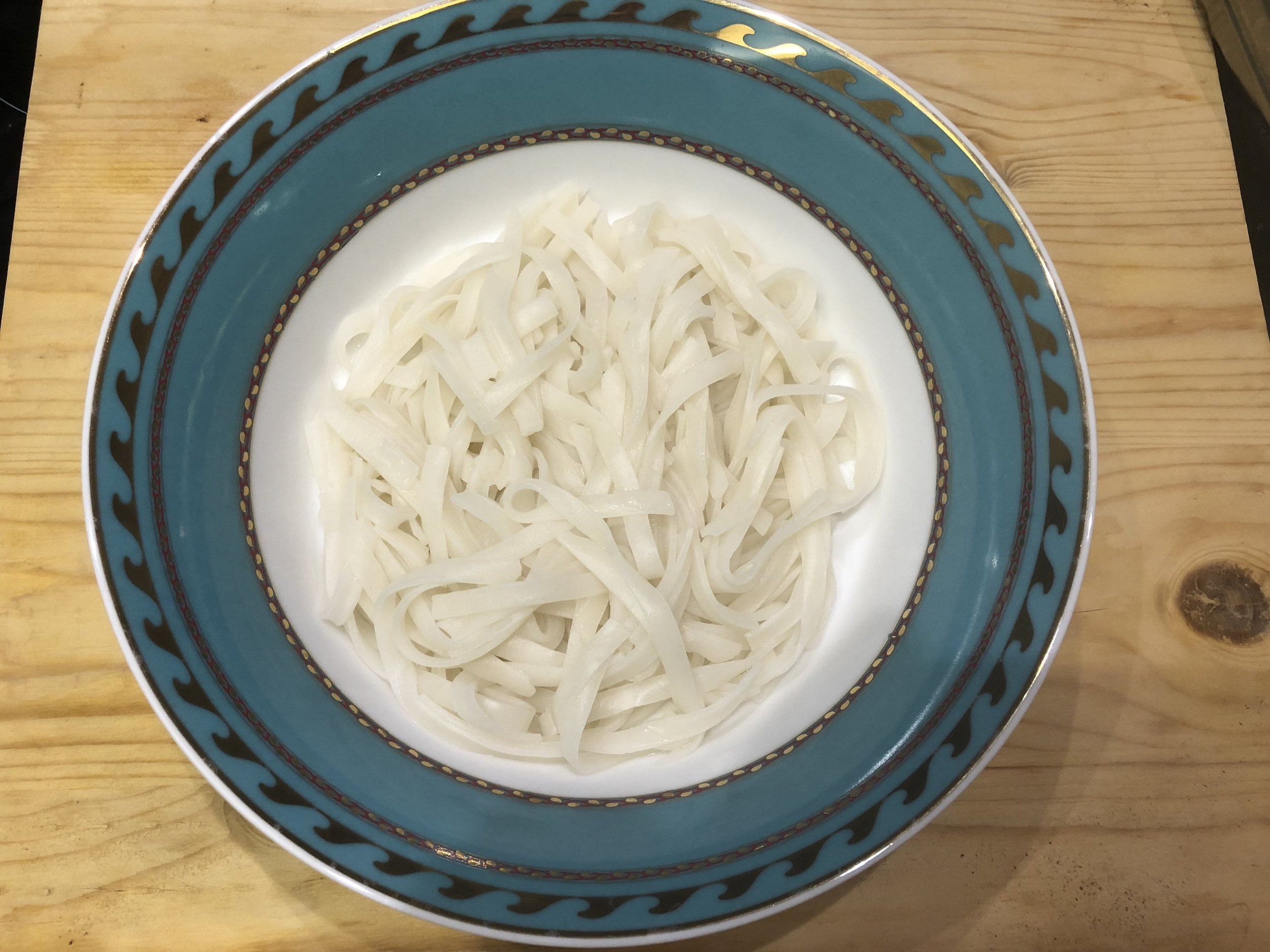 Ingredients:
For Broth:
1 Kg beef bones - knuckles or neck bones
1 Kg beef shanks or 3 to 4 medallions
1 Kg chuck roast or brisket (I used chuck roast)
2 big onions
1 big hand of ginger
7 star anise
8 whole cloves
1 teaspoon coriander seeds
1 teaspoon fennel seeds
1 cinnamon stick
1/3 cup fish sauce
2 tablespoons brown sugar
For serving:
2 packs of Large Banh Pho noodles
Scallions
Chilli
Limes
Bean Sprouts
Cilantro
Basil
Mint
300 grs of beef flank steak
Instructions:
Blanch the bones - Place the bones and shanks on a stockpot and cover with water. Let it boil for 5-10 minutes until the water is foamy and the bones have a whiter look. Discard the water and clean the bones on cold running water.
Char - On a baking sheet lined with aluminium foil, place the onion cut in four pieces and the ginger sliced open on a broiler. I did it on the oven this time because my house does not have a gas oven but I would usually char the ginger and onion directly in the open flame until blackened. Discard any excess of burnt skin.
Toast the spices - Place the spices on a pan and toast for around 3-5 minutes on a medium flame until the aroma starts coming out. Place them on a mesh if you have one or use a tea bag.
Start the broth - On a large stock pot places the bones, the shanks, the chuck roast, the onion and ginger, and the spices. Cover with 4 L of purified water and bring to a boil. A key thing to remember is skim the fat. that is, with a spoon keep removing all the debris coming out in the surface constantly. After the water starts boiling, reduce the flame to a simmer for 1.5-2 hours and take the chuck roast out. Let cool and cut in slices and refrigerate. Continue simmering adding water as it reduces for 3-4 hours. (Your house will smell heavenly by this point).
Season - After simmering for at least 4 hours, remove the meat and spices from the broth. Add the fish sauce and sugar and adjust to taste. It should be highly seasoned!
Strain - Once it's perfectly seasoned, strain the broth through a fine mesh to get rid of any impurity. The broth must be completely clean.
Prepare Noodles - Make noodles according to package. I do not recommend cooking and then hydrating but if you must, undercook a little and hydrate before serving in boiling water.
Assemble - On a bow place the noodles, then add the sliced raw flank steak, the slice of chuck roast, the scallions, bean sprouts, mint, basil, and cilantro. Now add the broth while very hot for it to cook the raw meat. Squeeze a little lime if you want and voila! Indulge!