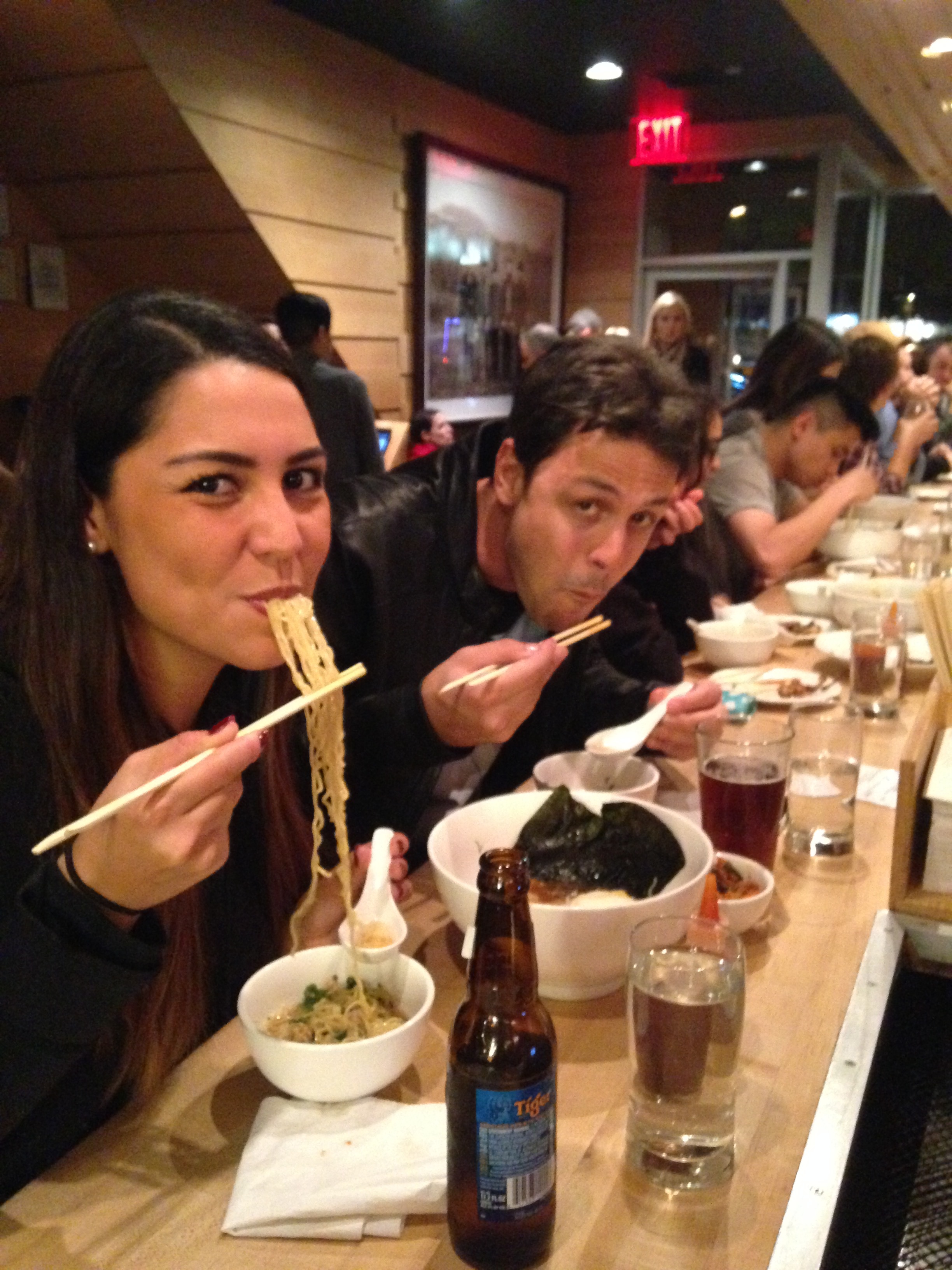 First Day: Dinner at Momofuku Noodle Bar
Anyone who knows anything about great chefs knows about David Chang. He is the owner of the Momofuku Restaurant Group who own, among many others, the famous Momofuku Noodle Bar. Located in the East Village, this no-reservations restaurant brings together the wonders of ramen and buns with flavors as rich as pulled pork and brisket. Absolutely wonderful!
So for our first night in NYC, we went to Momofuku Noodle Bar where we stood in line around 40 minutes to be seated. We then indulged on a plate of brisket buns ($13) with their world famous Ssam Sauce ($7.50). Next we ordered the Momofuku Ramen ($17); a big bowl with 2 pieces of dry wakame, scallions, a perfectly poached egg, pork shoulder, and pork belly! And the ramen is just perfectly cooked with a very rich broth. Just what you need on a cold night in NYC!
I had a very refreshing Tiger Beer ($6). very adhoc with my food! My boyfriend had a singlecut beersmith, dean pnw red ale that was absolutely wonderful ($8) and for dessert (because duh) we had the specialty of the house; soft serve and birthday cake truffles ($4.35). Now this may sound easy and even look simple, but these truffles are full with whatever lacks in your life; joy, happiness, a good job... they will make you forget where you are while you eat them! On our last day we went to the actual MILK BAR store, also from Momofuku.
One thing is for sure in this place, everything is delicious but at the same time it is the affordable side of great cuisine. These are thoughtful dishes with no pretentious vibes. In a world with weird words, being able to pronounce what you're eating is appreciated.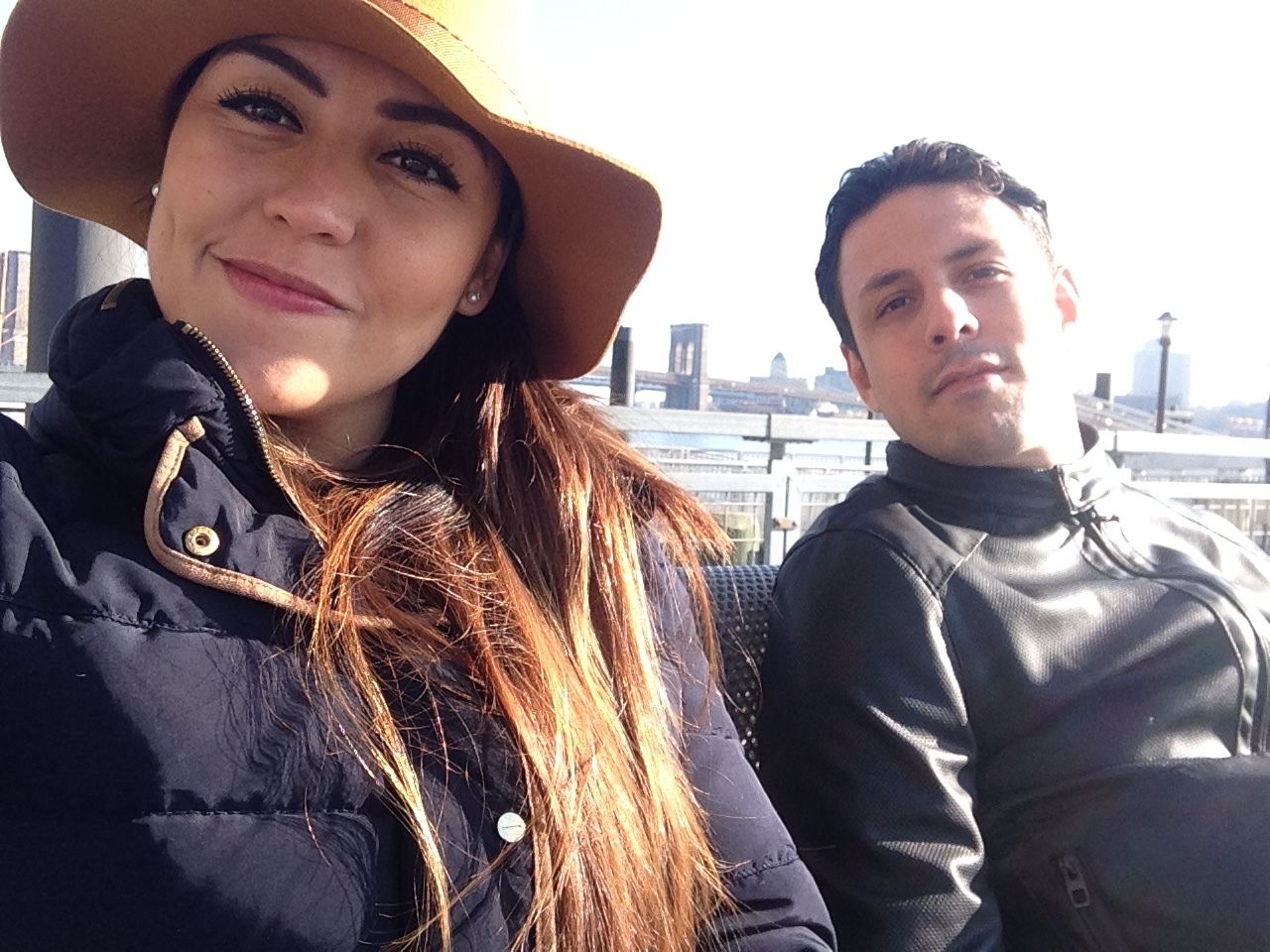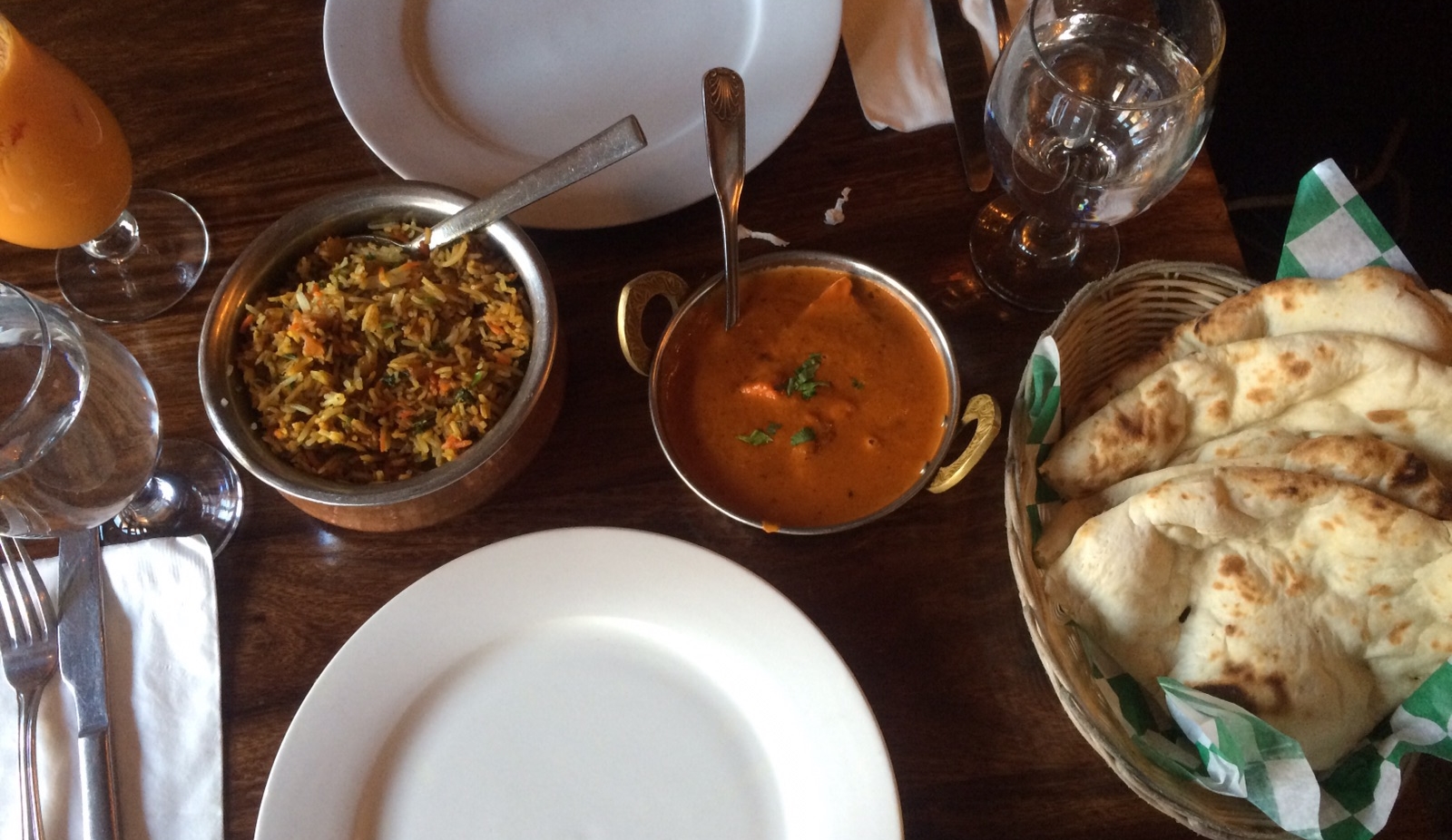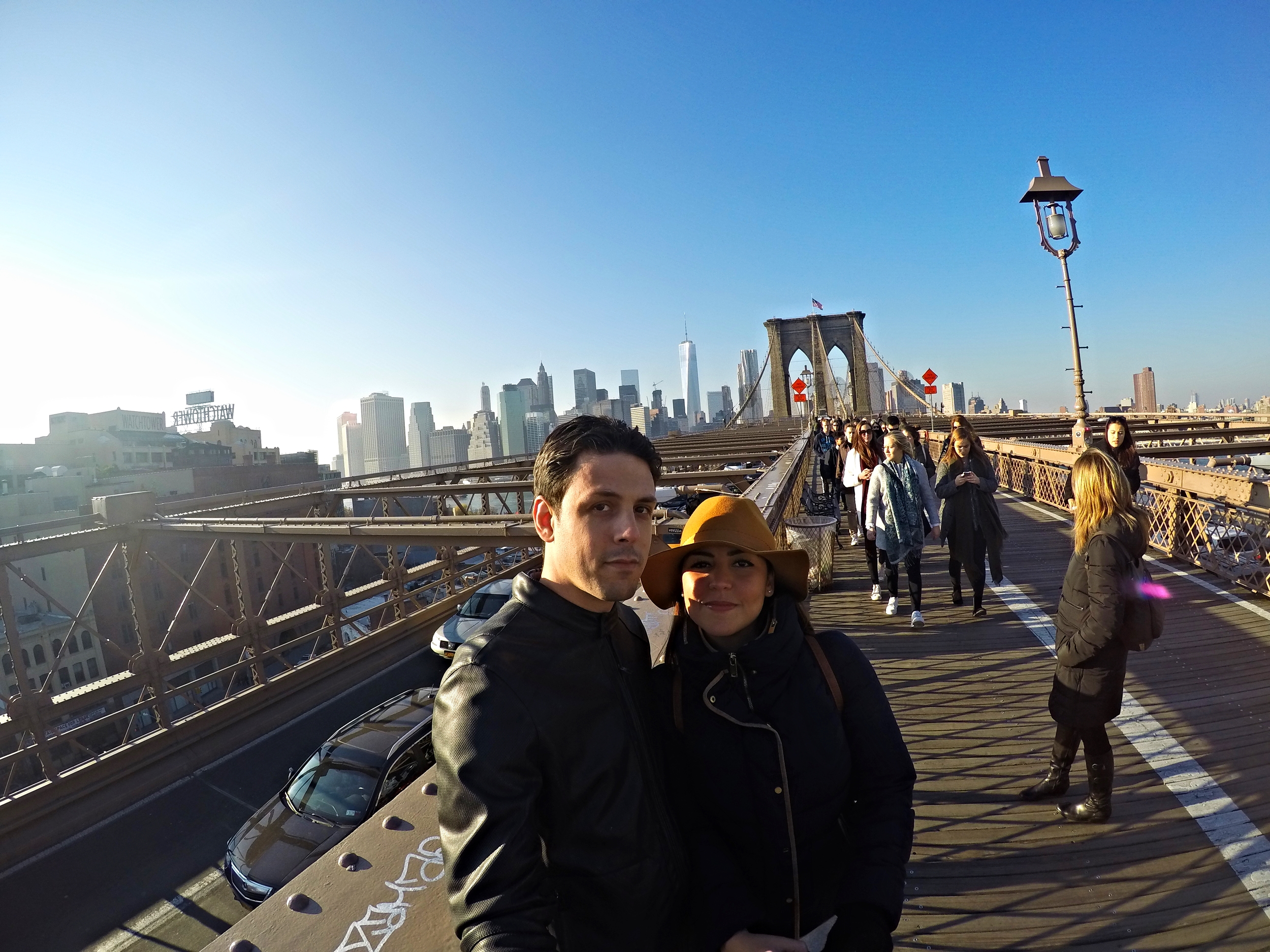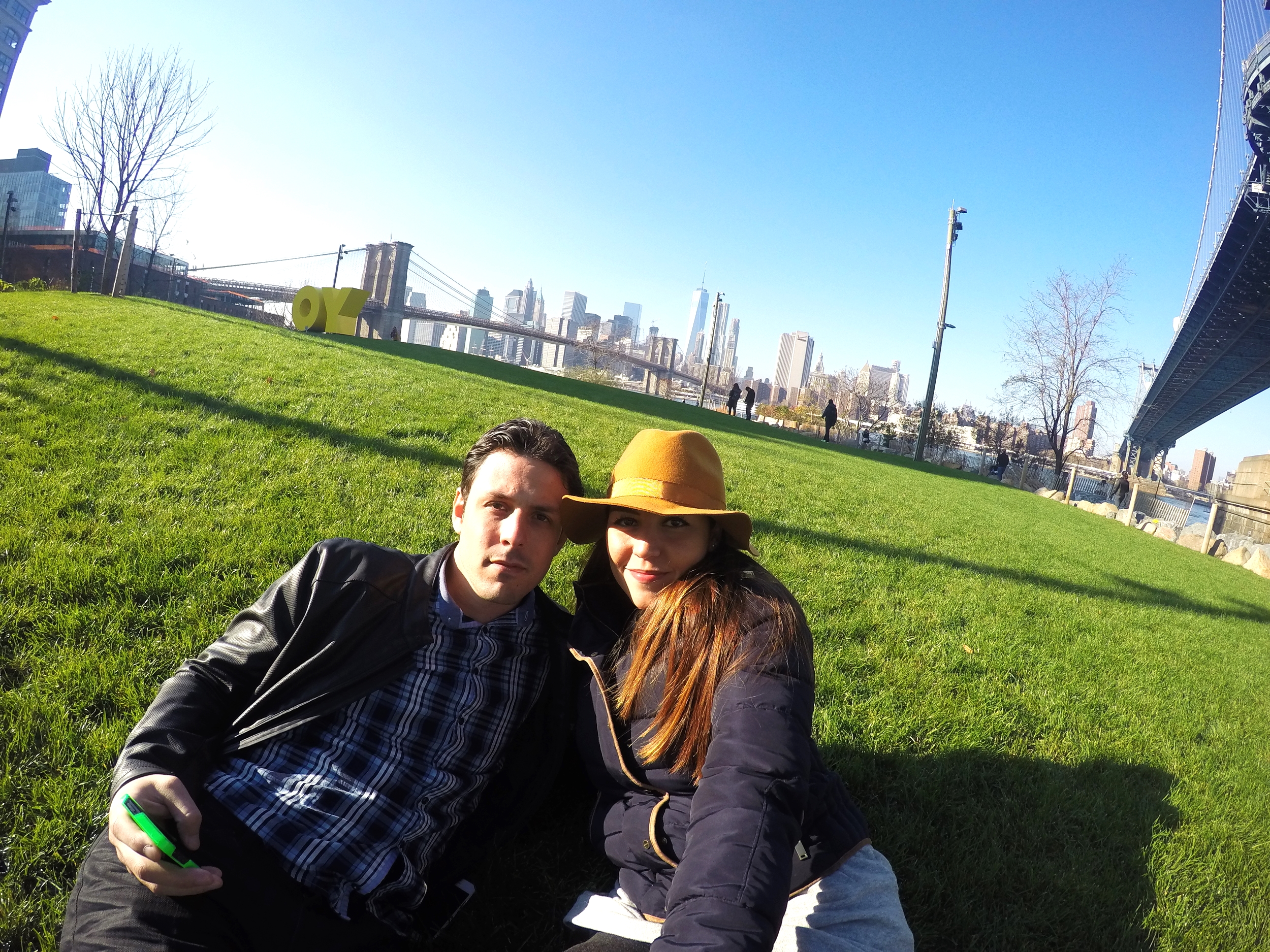 Leo's Bagels, Asya in Brooklyn and The NoMad Restaurant!
When we finished this day, we realized thanks to the magic of technology, that we had walked 12 miles throughout the whole day. Now, if you practice some kind of exercise, 12 miles may sound like a normal day... but for us it meant soar body and aching feet by the end of day! However, it was totally worth it!
Considering that we only had 4 days in NYC, we took the whole "seize-the-day" philosophy to the maximum! We started by walking from The Village, which is where we were staying, to the Financial District at 7 am. We originally wanted to go to French Café Gourmand, but when we got there it was still closed. They open at 9 am on saturdays and that did not work for us. So we ended up on a classic of the Financial District; LEO'S BAGELS. An absolutely delight of breakfast! I had a cream cheese and avocado whole-grain bagel ($3.75) and Alessandro had a Two Eggs Sandwich ($3.75)
We then went walked to the Raging Bull, which is a symbol of the Wall Street culture that floods the NYC air over at the Financial District. It was very early in the morning so there were very little people and we got some very cool pics. Now, this area in New York is known for their skyscrapers and huge buildings. And don't get me wrong, they are absolutely beautiful, but that means there is a lot of shade and shade means COLD. I was freezing! Single digits temperatures (Celcius) are just not my thing.
We then walked to Pier 11 to grab the Ferry to Brooklyn. I know what you may think, it's easier on subway, taxi, walking... But we really wanted to experience the on-the-sea view of Manhattan and Brooklyn. Well, we got so caught up in the photoshoot (haha) that we missed our stop and ended up in Williamsburg, Brooklyn when the original stop was at Brooklyn Heights. Oh well... we got to know, briefly, a very Jewish area that seems to be neat and calm. Apparently, when it's not all closed, it is a very hipster area.
We took an über to Brooklyn Heights Promenade where we took awesome pictures of the view of Manhattan and the Brooklyn bridge. We walked all around and ended up on the grass taking a 5-10 minute nap with the view of the Brooklyn Bridge and the Manhattan Bridge on the back. Absolutely lovely! We took some pictures with our GoPro and relaxed with the view.
Next was lunch! Asya Indian Restaurant in Brooklyn Heights was a great surprise to my idea of Indian Food. While I LOVE Indian food, it is usually a meal you have one every now and then because of its heaviness and spiciness. Asya, however, was rich in flavor but at the same time not as heavy as regular Indian food. We ordered 1 Naan (omg yum!) and two main dishes: Chicken Tikka Masala and Lamb Biryani. Absolutely delicious!!
We didn't have dessert which is weird but we were pretty full! Asya gave me a vibe that only those family-run places give you. Like really well taken care of, personal service, great location (very near Brooklyn Heights and very near the entrance to the Brooklyn Bridge walk path) and very nice decorated. I am truly happy we went there since it is somewhat hard to find good Indian food here in Mexico. We ended up spending around $60 usd for two people with tip. I loved this place and I highly recommend it!
Next we went walking to the Brooklyn Bridge where we took awesome pictures of the view and enjoyed a walk throughout the busy and hectic life of the Brooklyn Bridge. Tiny space for people to walk and with tourists like me taking pictures and stopping, made it a little bit complicated! Next to the walking path is a painted line where the bikers have their own tiny lane, so they pass by with all of us in the way! It must be really annoying, but hey! we need our new Facebook profile pictures! The Brooklyn Bridge Promenade is 1.8 kms long, it took us around 20 minutes-30 minutes as we were slow walking and enjoying the view! It is TOTALLY WORTH IT and I think anyone visiting NYC should definitely go!
When we got to Manhattan we had to stop and have a coffee or something. Our feet were soared and my calves ached so much! So we sat down at the busiest Starbucks i've ever been to. After a moment of relaxation, we started walking again. This time we were headed to the High Line.
By that time, around 4pm, the sun was starting to hide and the beautiful colors of the sunset were starting to show. We walked the High Line but didn't get many pictures because of terrible lighting. (Besides, my bf was tired of me taking pictures of everything!) We soaked up on the area and walked what felt like 8 miles towards the end. The High Line is a park above the city. This park used to be a railroad- West Side Line- that stopped functioning by the mid 90's. It is full of green trees and flowers and view to the Meat Packing District, Chelsea and beautiful and artsy buildings. Really pretty. I've been here also on summer and it really is a place to go and walk and appreciate the concrete jungle NYC really is.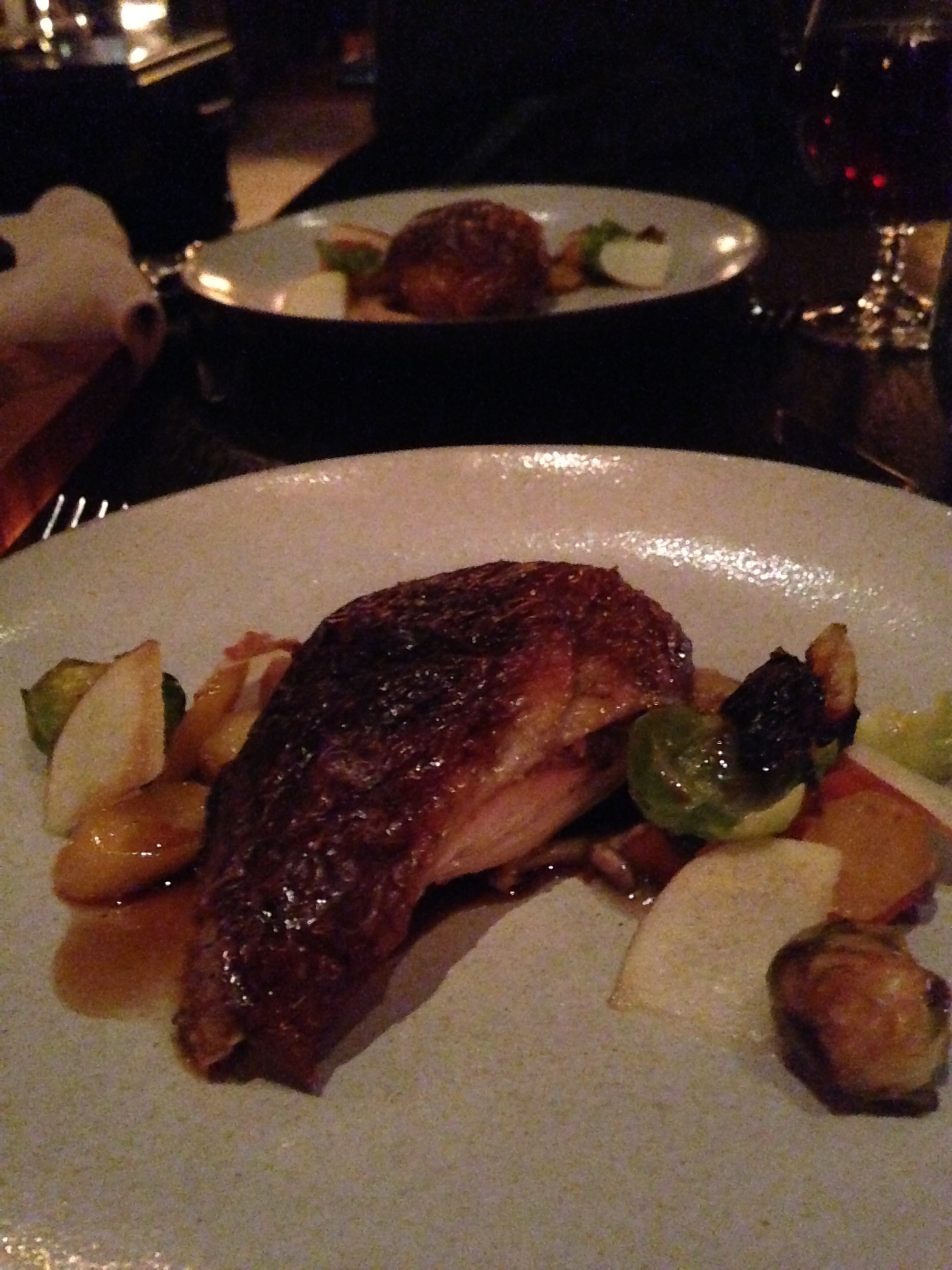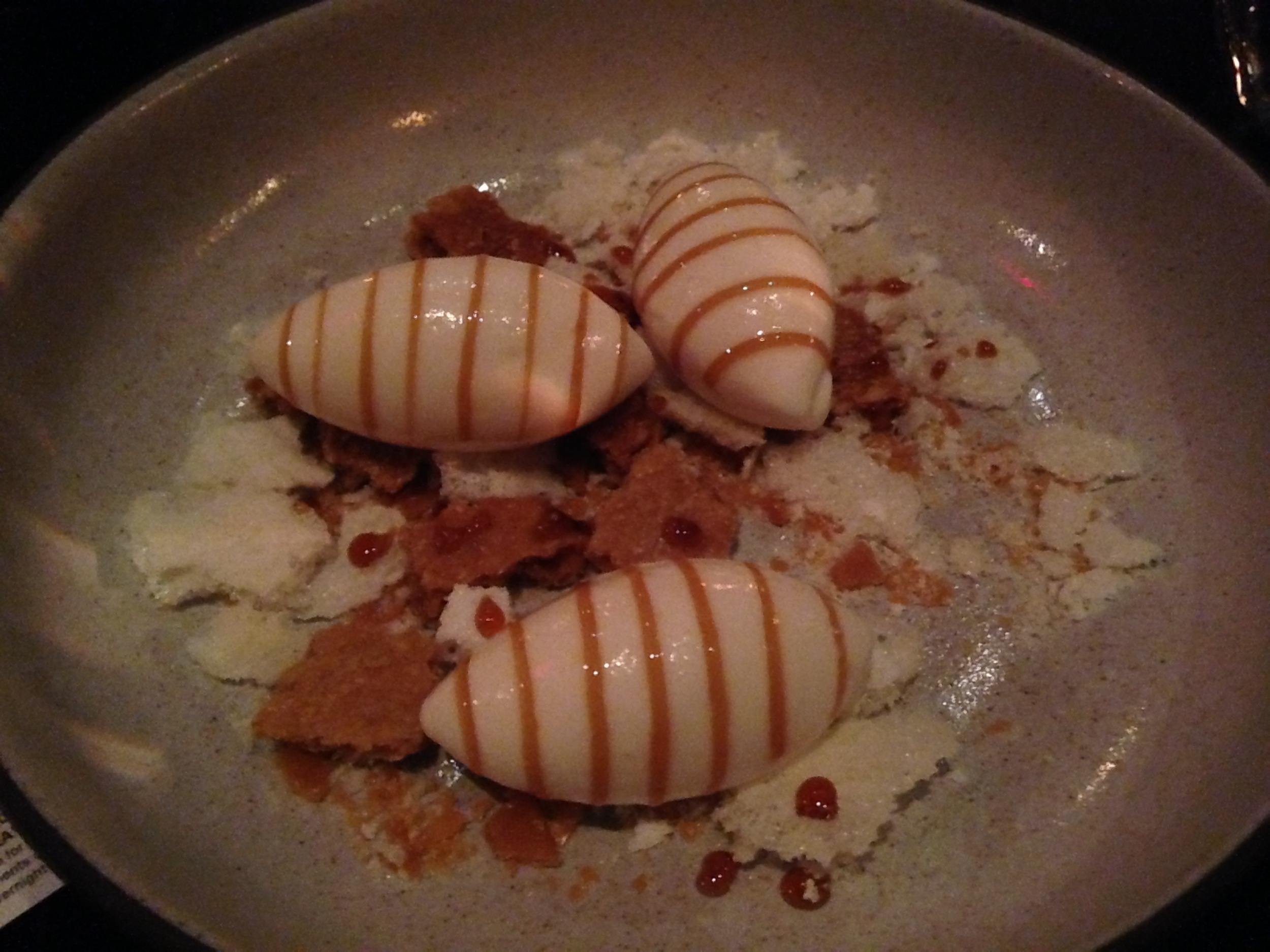 Last but not least, we went to the one and only, the highlight of my Food Trip; The NoMad Restaurant. I've read so much about this restaurant. I love the urban concept The NoMad Group has. Located in the high end hotel The NoMad Hotel, this restaurant has a elegant but casual vibe necessary for a couple like us. We love the concept of clean, elegant, classy, but casual, relaxed, and laid back. The NoMad area is called that after being North Of MADisson Square Park. The restaurant has a bar on the back which was packed we got there and seemed to be one of those places where cool young office people go after work, ya know? We were so tired that we waited on the waiting area outside the restaurant hostess area.
We were seated less than 10 minutes after arriving. We made our reservation via Opentable.com and we are glad we did! Daniel Humm's second success restaurant in NYC was an absolute delight. Dim lights and tiny tables for two did not stop us from wowing and humming on how GOOD the food was. Here's the thing, the most famous dish this place has is the CHICKEN FOR TWO. Whole roasted chicken with deep truffle aroma and smothered in delicious and creamy foie gras. I may be terrible explaining it, here, read this article so you believe me. (NYTimes The NoMad Chicken)
We ordered two entreés; Butternut Squash (Roasted with Morcilla, Apples, and Mustard Greens) $26 and the Bigoli Ragú (Wild Boar Ragu, Radicchio, and Parmesan) $23. Both deliciously amazing. The pasta was a perfect balance between the on point cooked bigoli and the amazing salty but rich meat flavored ragú. The Butternut was soft and kind of sweet and very tasty. Next we ordered the famous chicken. Whole roasted for two; Foie Gras, Black Truffle and Brioche accompanied by Smoked Grits and Succotash. WHAT! I can't even pronounce some things this dish has! it takes over 20 minutes so the entreés were a good decision. Then they present the whole chicken to you in a really pretty way with flowers and then proceed to cut it. Once they bring it back, it's the breast on a plate with a beautiful decoration and the rest they bring it on two small dishes. You can cut the chicken and feel the tenderness. The outside is perfectly cooked and browned while the inside is juicy and so aromatic. A pleasent surprise considering my high expectations. The chicken was $84 usd. The place is very pricey but I must say that if you're up for good food, then it is most definitely worth it!
Next was dessert. We always go for either chocolate or chocolate. We almost never change. But we saw everybody ordering the MILK AND HONEY so we decided to order it. MIlk and honey are not on my favorite things in life list, not even close. So I was hesitant to this. Well, I am so happy we ordered it. IT IS A DELIGHT. Pieces of shortbread and brittle with what must have been the most perfectly balanced vanilla ice cream with some dulce de leche on top. Not heavy, so creamy, so delicious, so not enough!! The best $15 usd I've ever spent of a dessert!
That was our whole second day. Tired and really satisfied with dinner, we went to sleep like babies.
Sunday in NYC; Breakfast at Dominique Ansel, Dim Sum for Lunch at Radiance, and a classic NYC Pizza at Fiore's.
Our third day started the best possible way; waiting in line for a cronut. I don't remember exactly when did I become so obsessed with the Cronut to be honest. But I'm glad I did... The first time I went to Dominique Ansel Bakery May 2015. I woke up at 6 am, put on my sneakers and walked all 5th av and Thompson St to the famous bakery. I got there at 7 am and waited one hour in line before getting in. I was by myself and it was my first time. I talked to many people who have done that for many times and saw their excitement in eating a donut shaped croissant with the month's flavor filling. I then went back to the hotel where my mom and my sister awaited. They were pretty shoked of the dedication for "just a donut"... Until they tried it. Just as I expected it, they loved it and wanted more.
This second time was a little different. This time I stayed on Thompson St, just 2 blocks away from the Bakery, and went on a sunday when they open at 9 am instead of 8 am. We stayed in line from 7:15 to 9 am when they let us in. The first time, on summer, the sun came out while the air was still cool. This time, december received us with barely any sun and really cold morning to be standing still. Once again, I had my boyfriend with his sceptical face waiting in the cold... until he had one. The month's flavor was "Gingerbread Valrhona Milk Chocolate and Pear (with cinnamon sugar and speculoos cookie)." I don't think there are enough words to describe the feeling. Photos does not make justice to the wonders of what the cronut is. We each had 1 and a coffee. I also had to ask for an Almond Croissant that is absolutely delicious! If you do not wish to make a line but still go to the Bakery, make sure to have an Almond Croissant, Frozen Smoore, and DKAs; the latest invention on wonderful bread of Dominique Ansel.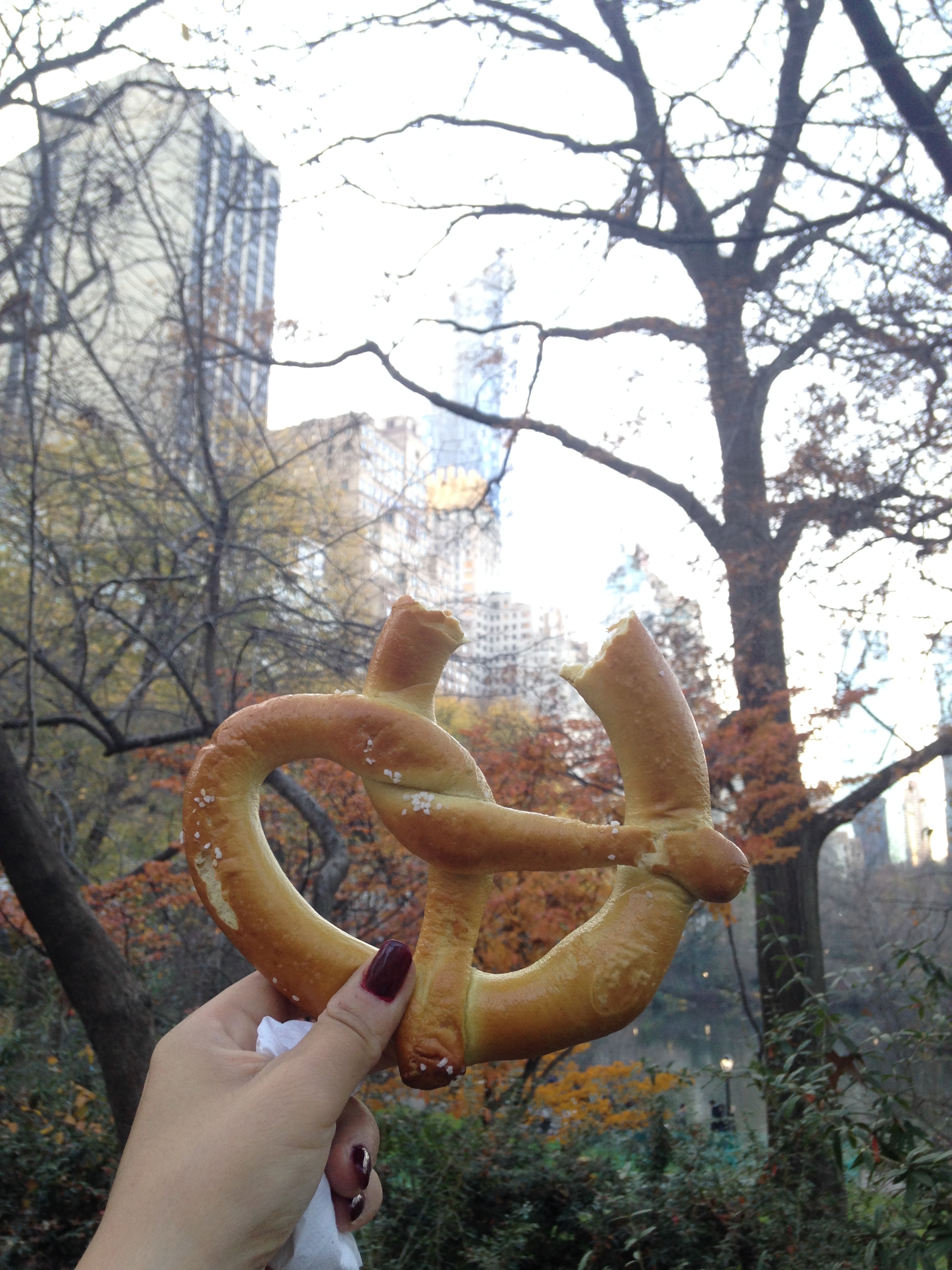 After sitting down and eating our Cronut, we started walking towards 5th Av. We passed Washington Square Park and embraced the scenery of two different areas; Thompson St and 5th Av. We walked all 5th Av. with no rush whatsoever. We got to Rockefeller Center which was PACKED because of the beautiful christmas decorations and the huge tree, not to forget the Ski Rink! It is a beautiful avenue but I much rather walk it when its not as crowded!
We then got to Central Park where we sat down on a bench and talked for a while... of how cold we were and how tired and feet-ached we were. It was seriously almost impossible for either of us to walk. We laughed... then we cried a little. But then we decided we were really hungry, so we walked for food. We looked up on Yelp! for a Dim Sum place and we were not disappointed with their choice: Radiance Tea House was a delight!
When you first arrive you see some tables and chairs but mostly books and teas! It is really soothing to get there as the people are all really nice and calm. We took a seat and ordered tea from the large selection of exclusive tea menu they have. For lunch we had delicious dim sum like the soup dumplings, Soupy Pork Steamed Dumplings, and Cantonese BBQ Pork Bun. We also shared the Dan Dan Noodles which were my absolute favorite when I lived in Hong Kong! For dessert we had the mochi platter with different flavors, my favorite was Red Bean Mochi. Dim Sum has always been my to go food when leaving Mexico because I can't find any here in Mexico. I've tried and there is really good chinese food but never original and good dim sum. Hence my excitement with this place; people were extremely nice, the tea was gratifying delicious, and the food was comforting and tasty. I highly recommend this place if you're by the Midtown area.
For dinner we were pretty indecisive because we had tickets to go to the Comedy Cellar at 10:30 and we didn't want to go far from the area. So we looked up on Yelp! the best pizza in the area... it did not disappoint. Fiore's Pizza is located near the Comedy Cellar, hence in the Village. The pizza was so good and the place, even though it's really simple, has a beautiful story. It is called Fiore's after the last name of a fireman who was called to support the 9/11 terrorist attacks to the WTC and bravely lost his life. They have a post explaining his life, family, and amazing job at the FDNY. Really inspiring.
Last day deserves a healthy but sweet goodbye at the Butcher's Daughter and then some more sugar at the Momofuku MIlk Bar!
The morning of our last day we hurried up and went to The Butcher's Daughter. We got there to be seated by a casual looking bearded man on the bar by the window. The place is full of wooden tables and plants. They have a very old-school-like bicycle aka hipster, and the ambiance is that of a relaxed, healthy place. We started with coffee and juice. The variety of the menu was surprising. I try healthy food and most of the times end up searching for inspiration in many places over the internet. But this place has everything you would eat normally but the healthy version! I had a Goddess of Green juice; kale, cucumber, green apple,fennel, pineapple, thyme, blue green algae. My boyfriend had a Berry Blast smoothie; frozen acai,goji berries, local berries, almond milk, camu camu berry powder. To eat we shared a Breakfast Bagel; delicious and soft toasted bagel with two scrambled eggs, cashew cheese, adzuki bean bacon, and Harissa mayo with extra avocado! ($13), and a Coconut Yogurt Parfait; Coconut Yogurt layered with fresh fruit and house made coconut goji berry granola. ($11) Absolutely wonderfully delicious! It made me want to open a place just like that one back here in Mexico. It has the perfect air of a place you want to be at. I highly recommend this as a must spot to have breakfast in NYC.